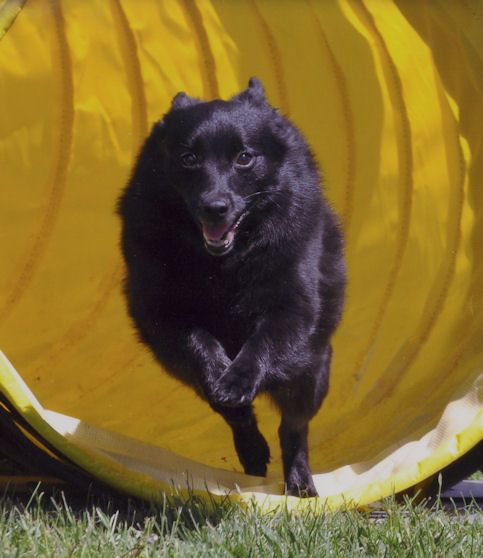 Agility is a performance event that is enjoyable for you and your Schipperke. Yes, training is required, but once the dog has learned the basic commands you will be on your way to a fun experience with your dog. It is a great form of exercise for both dog and handler, and a fun way to bond. And you don't have to compete to enjoy agility. Taking an agility class offers many other benefits. But many people start the sport just for fun, only to get bitten by the agility bug and become lifelong competitors!
All Agility is one of the fastest growing dog sports in the United States
 From AKC:
Agility is a sport that appeals to all dog lovers - from young people to senior citizens. It has great spectator appeal. Agility is designed to demonstrate a dog's willingness to work with its handler in a variety of situations. It is an athletic event that requires conditioning, concentration, training and teamwork. Dog and handlers negotiate an obstacle course racing against the clock. 
The AKC offers several types of agility classes. The Standard Class, includes contact objects such as the dog walk, the A-frame, and seesaw. The Jumpers with Weaves has only jumps, tunnels and weaves poles with no contact objects to slow the pace. FAST, which stands for Fifteen and Send Time. This class is designed to test handler and dog teams' strategy skill, accuracy, speed and distance handling. 
AKC classes offer increasing levels of difficulty to earn Novice, Open, Excellent and Master titles. After completing both an Excellent Standard title and an Excellent Jumpers title, handler and dog teams can compete for the MACH (Master Agility Championship title.) 
Here are some more sites to visit...
Local Training Club/s:
http://www.sotc.info/
Other Agility Sites: 
http://dogs.about.com/od/sportsrecreation/a/agility_training.htm
http://dogs.about.com/od/sportsrecreation/a/agility_training.htm
http://www.dog-obedience-training-review.com/dog-agility-training.html
http://www.bing.com/videos/search?q=agility+training+for+dogs&qpvt=agility+training+for+dogs&FORM=VDRE
Click here to go to the next page.